---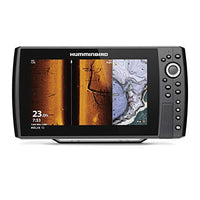 Brand: Humminbird
Color: Black
Features:
Control Head Only Model: This model does not include a transducer
This CHO model is a great choice for those looking to connect to connect to Built-in MEGA Imaging on Minn Kota trolling motors
accessory transducer options like MEGA 360 Imaging
or share sonar data from an existing Humminbird Ethernet network
Binding: Electronics
Details: The HELIX 10 CHIRP MSI+ GPS G4N CHO features a 10.1" display, MEGA Side Imaging+, MEGA Down Imaging+, Dual Spectrum CHIRP Sonar and internal GPS with Humminbird Basemap. As with all HELIX G4N models, this HELIX 10 includes standard features such as AutoChart Live, Wi-Fi and NMEA 2000®, in addition to Bluetooth® and Ethernet networking for compatibility with the One-Boat Network™ family of products from Humminbird, Minn Kota and Cannon. This CHO (Control Head Only) model allows you to pick the right accessory transducer for your needs, including compatibility with Minn Kota Built-in MEGA Imaging trolling motors.
Package Dimensions: 19.0 x 13.0 x 10.0 inches