---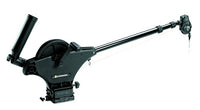 Brand: Cannon
Color: Black
Features:
2:1 retrieval speed makes getting lines out of the water fast and nearly effortless
One-Hand Clutch Deploy - Precisely and easily position your baits with full control
Stainless Steel Telescopic Boom - Extends from 24" to 53" with enclosed boom end - Prevents lines from jumping when deploying or retrieving weights
Dual Axis Rod Holder - Includes one (1) rear mount rod holder
Includes - Universal Mounting Base, Low-Profile Swivel Base, line terminator, one (1) Uni-line releases, and ergonomic crank handle
Details: Cannon Manual Downriggers -- More control at every turn. Take command of controlled depth fishing when you equip your boat with a Cannon manual downrigger. Perfect for smaller boats, each one allows for quick line retrieval and precise bait positioning.