---
Fishing Tips and Tricks
Posted by Matt Pierce on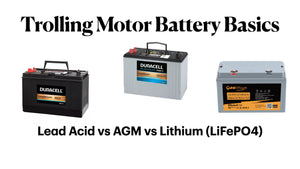 Trolling Motor Batteries - Lead Acid vs AGM vs Lithium LiFePO4.  Is Lithium Worth It?
---
Posted by Matt Pierce on
Planer Board Basics     What Are Planer Boards? Planer boards are an effective way to fish additional lines when trolling.  Planer boards push your line to the side of your boat.  This allows you to cover a wider area and also helps spread out multiple lines to prevent tangles. When Should I Use Planer Boards? Planer boards work best when the fish are in the top of the water column.  This is typically in the early spring or late fall when the water temperature is colder.  Have you ever noticed a lack of fish on your fish finder in...